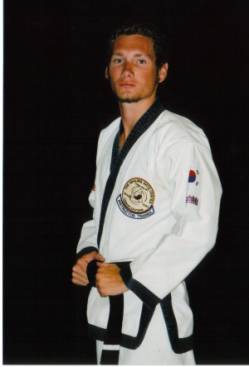 Mr. Matthew Griese
My name is Matt Griese and I have been training now for 6 years. My road to the Black Belt Society has been long and difficult, somewhat like a roller coaster. I started when I was 12 years old and during that time I was out of control. It was so bad that my parents took me out of public school and put me in independent studies.† It wasnít until my sister Michelle Griese, a black belt at that time, helped my parents and I find a solution. She took us to the First Tang Soo Do of Fremont and signed me up for classes. I didnít really think much of it, just three days a week, pretty much my physical ed. However, overtime I became more and more and my new self control astonished my parents.
My new attitude and approach towards things impressed my parent so much; they enrolled my back into public school. I was able to focus much better and my grades were awesome. I also became a better person socially and made many new friends. My training with Master Bell has lasted all through out middle school and even high school. His training not only allowed me to focus on school, friends, family and relationships but also helped me balance them out as well. After becoming a black belt, I learned that there is much more to karate that just kicking and punching.† Teaching can also be a very good technique to have. By teaching other students, I too get a better understanding of whatever technique Iím demonstrating and I also get more confident speaking in front of groups of people.
I am currently 18 years old and graduated out of high school with a 3.25 grade point average. My career interest is to get into broadcasting so I can eventually become a radio disc jockey. Without Master Bellís encouragement, I would never have thought to become a disc jockey. When I first joined his school, he always asked my fellow students and I what we wanted to be when we grew up. Before then I didnít even think of it, but he allowed me to. I am now enrolled into a junior college and ready for an even longer roller coaster ride ahead of me. I am sure that if I keep training, I will be able to accomplish anything I desire.