Black Belt Society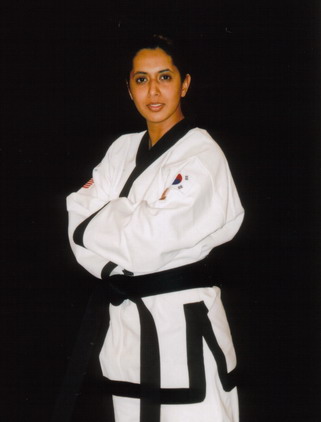 For as long as I can remember I have had a gripping interest in the Martial Arts. What began as an endless stream of watching Kung Fu movies with my dad, developed into becoming my own curiosity with the art. Interestingly, despite this preoccupation with all things Bruce Lee, 26 years went by with me never having signed up, kicked or punched at any of the local Dojangs in Bangalore, India. I played a lot of Badminton and swam and tried parasailing even….but never seemed to get around to learning any karate. It still puzzles me when I think about it. But all good things come to those who wait and finally at age 27, six months after the birth of my daughter Aparna I found a small school with a quiet instructor that taught the old Japanese form of Shito Ryu Karate.
From day one I took to it like a fish takes to water. My one hour class was my one hour of jumping, running, punching, kicking…it was hardwood floors, complaining heels, bleeding elbows and yet, it was my one hour of peace. I loved the sense of simplicity it brought all things down to. Every kick and punch and form could essentially be broken down and eventually mastered. This was at a time when my child was barely six months old. For most women this is a stage that is usually marked by mild to moderate post natal depression, confusion over a baby that stays up all night crying over seemingly nothing. Friends I knew were going through feelings of ranging from anger to lethargy to helplessness and frustration over babies that were always cute and but also always demanding. And yet I felt none of this. Not because Aparna wasn't constantly demanding my attention or because I had super human levels of patience….it was definitely my martial arts.
I learned quickly how great an effect training in martial arts could have on one's life. I felt stronger, had more energy, felt more positive and had greater flexibility at 27 than I'd ever experienced before. I consider myself truly lucky and blessed that I found martial arts when I did because pretty soon I was going to need it again.

A few years later and after big changes of location from India to the US, I found myself at another crossroad. I had just left a very stressful job in the Silicon Valley and was facing the prospect of starting at another job that promised all the old highlights…long hours, working weekends, mad deadlines. Luckily for me…I began evaluating the pros and cons of the situation and saw only too clearly that I was trading away precious and exciting years as the mother of a young child and taking on insomnia and acid reflux instead. Suddenly it was a no-brainer. With the unquestioning support of my husband I decided to quit not just my job but also quit the search for any other job and pursue a more effective role as mother and homemaker.

I began training at the First Tang Soo Do of Fremont in the year 2000 and haven't looked back since. Master Bell teaches the art in non-commercial and realistic sense that isn't customized to winning competitions but more focused on character development and effectiveness in real life situations. The school has an impressive history of overall regional winners and world champions and yet the focus is on day-to-day life and not annual meets. I find this dichotomy both interesting and very grounding. The road to martial artist and Black Belt has been exciting and hugely rewarding. I have had my days of being frustrated and then being calm. There have been days marked by tears and days marked by sheer awe over the fact that I broke my first board. I could easily call this the single most exciting journey I have ever undertaken…I would put this right on par with having a baby and raising a child. I have been training under the instruction of Master Bell for almost four years now and couldn't wait to get Aparna started as a white belt.

I find the training and teaching not just valuable in understanding my own character but am amazed every day at how I can use Tang Soo Do as a tool in providing a comforting and structured environment for my family and in raising my child.
Today as a Black Belt and wife and mother I am also enjoying the slow but unbelievable rewards of energy training. I have been taking Chi Kung seminars that Master Bell organizes for over two years now. This training has taken the 'whole person' concept to a new place. The awareness it bring to you, about your own mind and body through the channeling of your spirit is hard to explain and has to be experienced to be understood. The way I see it, my training in Tang Soo Do and turning Black Belt is hardly a final destination or goal. It is an invaluable tool that makes life and its long and interesting byways easier and simpler and less stressful. I feel like a better person as a wife or as a friend, as an employee or as a teacher someday… because of my training. As a female and as a mother raising a daughter I feel twice as confident knowing that I train under the instruction of Master Bell at the First Tang Soo Do of Fremont.
Vandana Rao plans to start a school teaching the multiple arts of Tang Soo Do, Yoga and Chi Kung in Bangalore, India in the near future. Any contact with Ms. Rao can be established over e-mail at vankris01@hotmail.com